Sheet metal storage changing tower for sheet metal packages
on system pallets or one-way wooden pallets

Important product details for our sheet metal storage tower: ShuttleTower
The storemaster® Shelving Tower ShuttleTower is designed to cut a fine figure in the tower warehouse in every respect. The clever minds behind the design of the cassette rack have thought of all the details. These include:
Forklift shoes open at the bottom (analogue to Euro pallet) with generous entry height guarantee permanently collision-free, fast and safe entry of the forks into the racking - especially when the flatrack and/or the forklift truck are in an inclined or tilted position.
Built-in safety is one of the important details of the tower rack. In the event of operating errors - such as loads picked up off-centre - the load carrier already tips off the fork during the first lift before the forklift loses its stability through further lifting. A safe load pick-up according to BG guideline BGI 545, paragraph 6.3 is thus guaranteed.
Lateral frame brackets make precise storage in the ShuttleTower child's play. Already in front of the cassette front, the flatrack is placed on the tower's forwardly extended support brackets. This enables precise angle-on-angle guidance and rapid sliding into the appropriate compartment of the cassette racks.
Practical system extensions and accessories for the ShuttleTower
Smart extensions and additions to the compact system make the ShuttleTower an all-round solution for cassette racking in sheet metal storage when you buy our ShuttleTower. Our racking accessories at a glance:
Advantages at a glance
Less space in the machine area is used for storage

High flexibility thanks to in-house exchange of pallets

 Time saving due to manual pull-out

Availability of all varieties in every place
Designs
Single tower in combination with tower bearing
Double-sided or single-sided pull-out
Rear forklift loading
Suitable for crane vacuum extension
Adaptations
Number of pull-outs variable
Increase with stationary storage spaces
Electrically adjustable for more load capacity
Don't any of our systems meet your expectations? Contact us for individual solution concepts.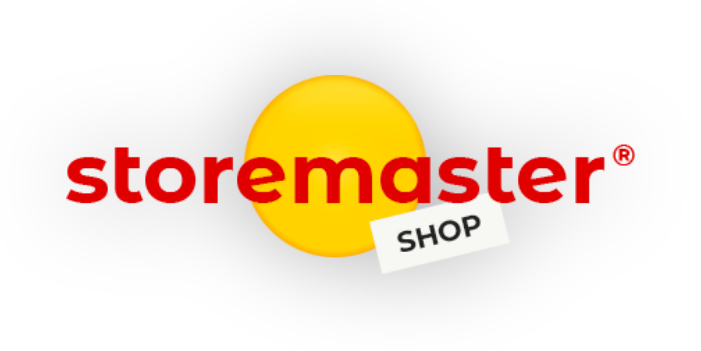 The storemaster Shop
Smart sheet metal storage design and unique heavy-duty racking systems for sheet metal, coils and long goods. Discover our storage systems and put together your model online.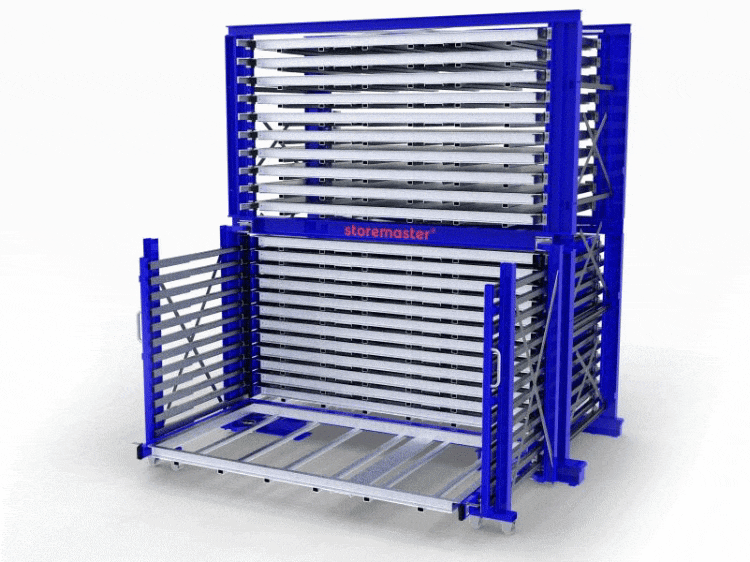 ShuttleMaster in action
Moving pictures say more than a thousand words. Take a look for yourself and convince yourself of the Shuttlemaster concept.
We would be happy to arrange your personal reference visit to one of our satisfied customers in your area.
Sheet metal bearing change tower
An innovative solution that saves time and space and significantly increases the flexibility of stocking. Behind this is the unique pallet changing system.
This works through an external storage system and a buffer storage system directly on the machine. Both sheet metal storage systems work hand in hand thanks to the same load carriers. As required, the types are exchanged in the pallet changing system directly at the machine. This significantly reduces the space required on the machine and at the same time increases flexibility. All grades are directly available on demand.
In addition, time is saved by positioning directly at the machine. Thanks to the manual pull-out, the operator quickly has the right sheet ready. An extension with crane-vacuum technology ensures additional efficiency in machine loading.
The automatic alternative
storemaster® ShuttleMaster AUTOMATIC
The new highlight in automatic sheet metal processing - finally for less money.
ingeniously simple | efficient | highly flexible | modular
Sheet metal storage automation with growth potential - successively expandable to up to 1,000 sheet metal types - with up to 10 machines - conventional sheet metal processing active in parallel.

Ideal also for the Pre-picking of sheets for continuous processing of machine follow-up orders without the continuous provision of whole sheet packs of changing sheet types.
The Starter Kit: production-integrated with 20 change places (10 temporary + 10 in buffer) from 150.000,00€ handed over ready for operation - any further storage space that can be integrated in the ShuttleTower® from 1.000,00€.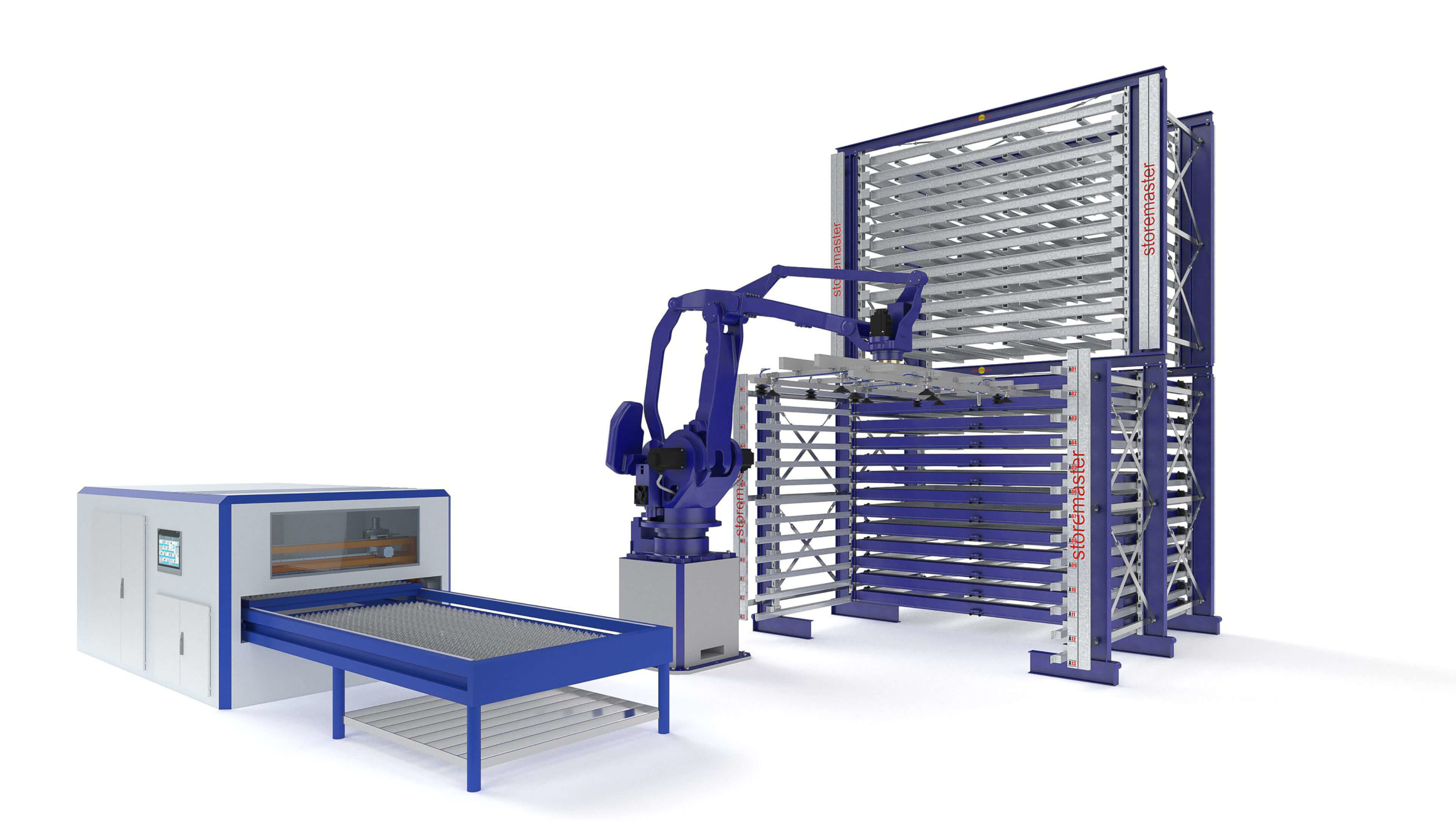 Electric pull-outs at a glance
All Drawer rack systems from 2.5 t to 10 t drawer load can be equipped with electric pull-out drives.
The extension and retraction of the individual drawer levels is controlled via a control panel with dead man's push-button. The control panel and switch box are compactly integrated into the standard single- or double-sided storage tower delivered ready for operation.
Drawers up to 6 x 2 m and loads up to 10 t (standard) are pulled out in transverse direction
Drawers up to 16 x 4 m and loads up to 20 t are pulled out in longitudinal direction
In the event of a malfunction or power failure, it is possible to switch spontaneously to manual operation.
Would you like to learn more?