Coil and slit strip bearings
Safe, compact and special
Flexible storage solutions for coils and slit strip for more safety and orderliness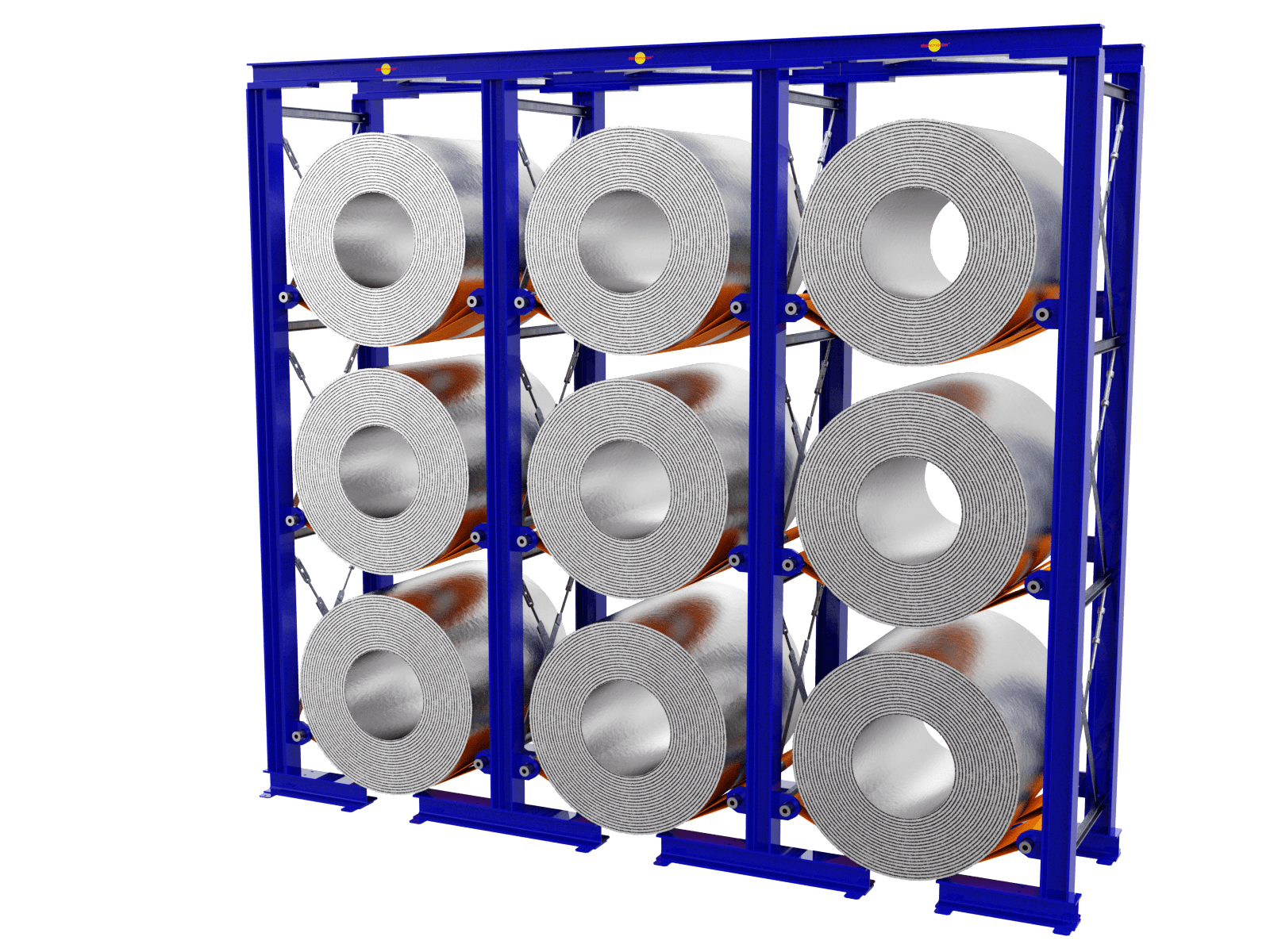 Maximum safety and clear organisation: storemaster's CoilStore solution ensures maximum load capacity and effective utilisation of your warehouse. Here you can store your coils of up to 20 tonnes per compartment and 150 tonnes per bay. storemaster also designs the matching slit strip storage system for coil-coated metal exactly to your requirements.
The SplittingStore system offers flexible height-adjustable modules with up to 10 tonnes of shelf load. storemaster's splitting and coil storage systems are designed for you against a background of decades of experience in warehouse construction. We support occupational safety, clarity and ease of use in your warehouse so that you and your employees can work with effective processes.
The coil racks ensure the maximum possible safety in terms of coil storage in your company. Everything is possible up to 150t field load. Due to the order-related production, we adapt the storage system to your wishes. Whether you want to operate it with a crane or a forklift truck, we have the right rack. Furthermore, you can make full use of the existing hall height with the help of our coil storage systems. This provides more space for production and ensures a better overview and order. Each compartment can be adapted according to coil size and clearly marked.
CoilStore® (DBGM) (can be electrified with E symbol)
20 t coils stored without pressure points
In the CoilStore® (DBGM), coils up to 20 tonnes of any diameter and strip width can be stored in flexible load carriers. This completely eliminates pressure points and flattening. The load carriers adapt positively to the changing coil diameters due to processing, whereby the coils are at the same time securely fixed in their position. This patented method of coil storage has the further advantage of optimum height utilisation, as the load carriers only take up a few millimetres of height. With a racking tower load of 150 tonnes, all load cases occurring in practice can be realised without any problems with full utilisation of the building heights. The racks are operated by forklift trucks with mandrels. If operation is to be carried out by crane-guided coil tongs, the compartments of the coil store can be extended electrically. The CoilStore® can also be used universally for special on-site shelf conveyors.
Unique coil bearing with the heavy duty belt bearing
CoilStore is storemaster's answer to the high demands of companies in the metalworking industry. The safe and correct storage of coiled metal strips is crucial for production and logistics processes as well as for the protection and ergonomics of employees. The CoilStore belt storage system combines the most important aspects and has customer-specific flexibility in terms of compartment height. CoilStore at a glance:
High load capacity of up to 20 tonnes shelf load
2 heavy-duty belts each within a robust steel construction ensure secure coil storage
Patented pick-up load belts for the storage of the coils
Neither pressure marks nor flattening - even with long-term storage
Maximum flexibility in coil storage due to simple and quick adjustment of the storage compartments to different coil diameters
Coil storage system can be operated with a forklift truck and carrying mandrel - coil transports are quick and easy with it
CoilStore is the optimal solution for sheet metal coils and can be erected for any number of slit strip and coil stores. The coil racks are available as a single tower or tower row in almost all strip widths and lengths. The access from both sides enables an even higher utilisation of your storage space and shortens the paths of your work processes. For the lowest level, you have the choice between wooden pallets and coil mats. If your requirements and storage specifications change, the elements of the warehouse can be flexibly assembled and expanded. Flexible coil storage with optimal utilisation of the available storage space also enables a quick return on your investment. CoilStore is extremely durable and comes with a 20-year manufacturer's warranty as standard.
Clear and gentle slit strip storage with the SplittingStore
Storage system for slit strip
without wood up to 8 t shelf load
With the SplittingStore for horizontally stacked slit strips of any dimensions, not only an optimal utilisation of space height is achieved by omitting shelf supports and wooden beams, but also a continuous adjustment to the constantly changing stack heights due to ongoing processing. This is achieved by means of a plug-in system that allows shelf height adjustments in a 75:75 mm grid. Another important advantage is the high level of transport safety ensured by the special load carriers during forklift transport.
Innovative coil storage from storemaster
With the proven solutions from storemaster, you can also store coils at height in a space-saving manner. After 50 years of development in the field of storage technology, storemaster knows the needs of companies in the steel processing industry particularly well. We are the only manufacturer of coil storage systems for the optimal storage of metal coils at height. Our systems store heavy sheet metal coils safely and gently. This makes our systems particularly attractive for coil racking in industry. Because storage space can be utilised without compromise with CoilStore, even for the heavy, possibly unwieldy coils: Rarely used, slow-turning sheet coils can be stored at height and coils with frequent access can be stored on the working level for quick removal. On request, you can get your CoilStore and SplittingStore storage systems with electrical connection and integration to the StoreKeeper Smart warehouse management system. This makes the operation of your storage system intuitive and fast.
Less damage and optimum use of space with the new coil storage system
Storemaster's system for the effective and gentle storage of coils completely eliminates pressure marks and flattening, thus preserving the quality and value of your sheet metal coils in the long term. The flexible CoilStore coil storage system can be extended modularly in height, length and width. You do not have to make any compromises when it comes to work safety and ease of operation. The quality products from storemaster guarantee a long service life and particularly robust construction. Contact us to discuss your individual solution for slit strip and coil bearings.
The StoreKeeper® Smart App
Convince yourself now of the convenience and user-friendliness of our modern digitalisation solution for your warehouse. With our web-based warehouse management software, it's easier than ever to keep track of everything. Suitable for managing sheet metal storage, coil storage, long goods or general cargo.
Try out the app directly and see for yourself:
30-day free trial without automatic follow-up costs.
Our certificates
We are a safe and strong business partner.
Our work is characterised by reliability and consideration.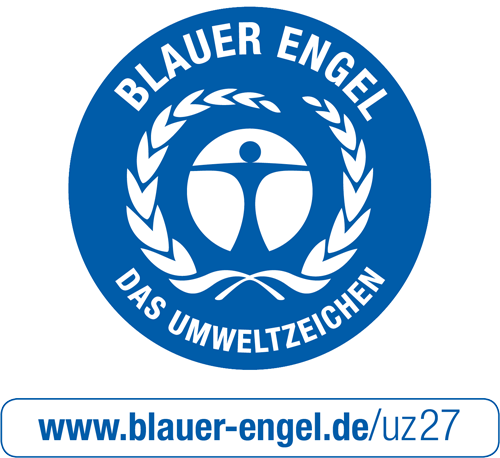 Sustainable packaging
More than 1 million trees are felled across Europe every year in order to use their wood to transport a one-off package of sheet metal from A to B. Is that necessary? storemaster® says no and invented a load carrier that remains permanently in use without being renewed or disposed of.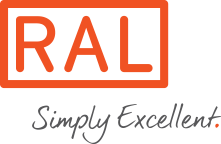 RAL Environmental Quality Mark
The Blue Angel is the oldest eco-label and one of the most renowned quality labels in the world.
Since 1978, RAL has been the Sole awarding body of the Blue Angel.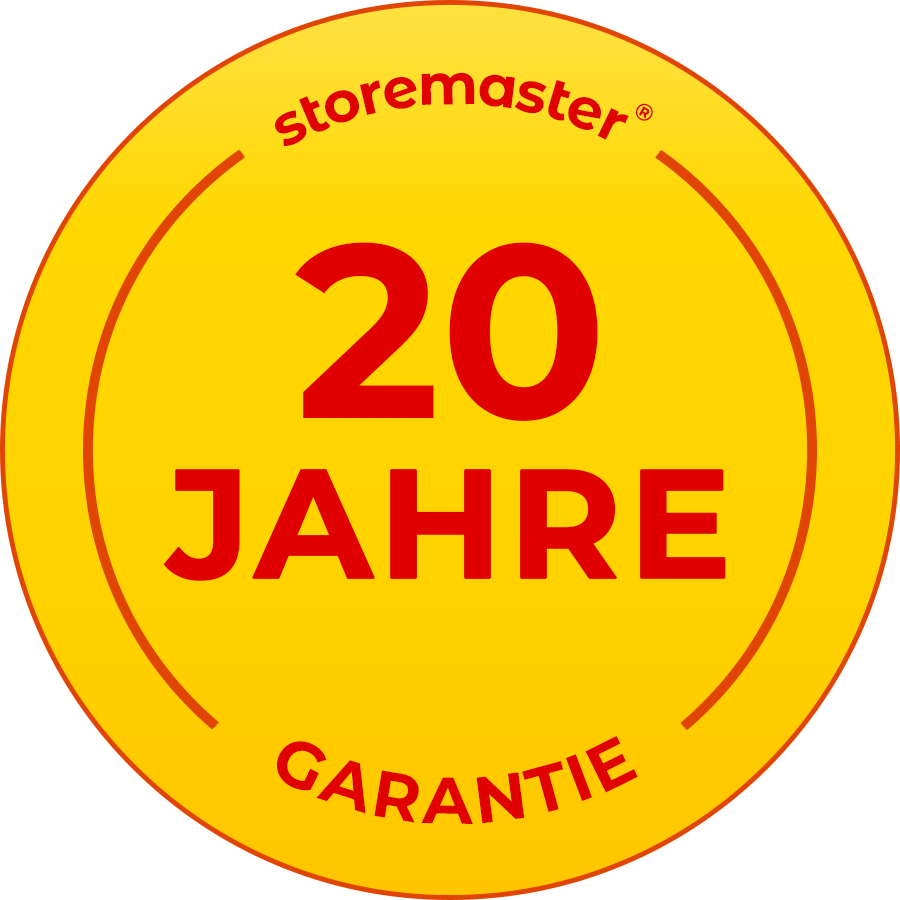 Highest product quality
We are completely convinced of our stock products not only in terms of content, but also in every other respect. That is why we grant a guarantee on all storemaster® Products 20 years warranty.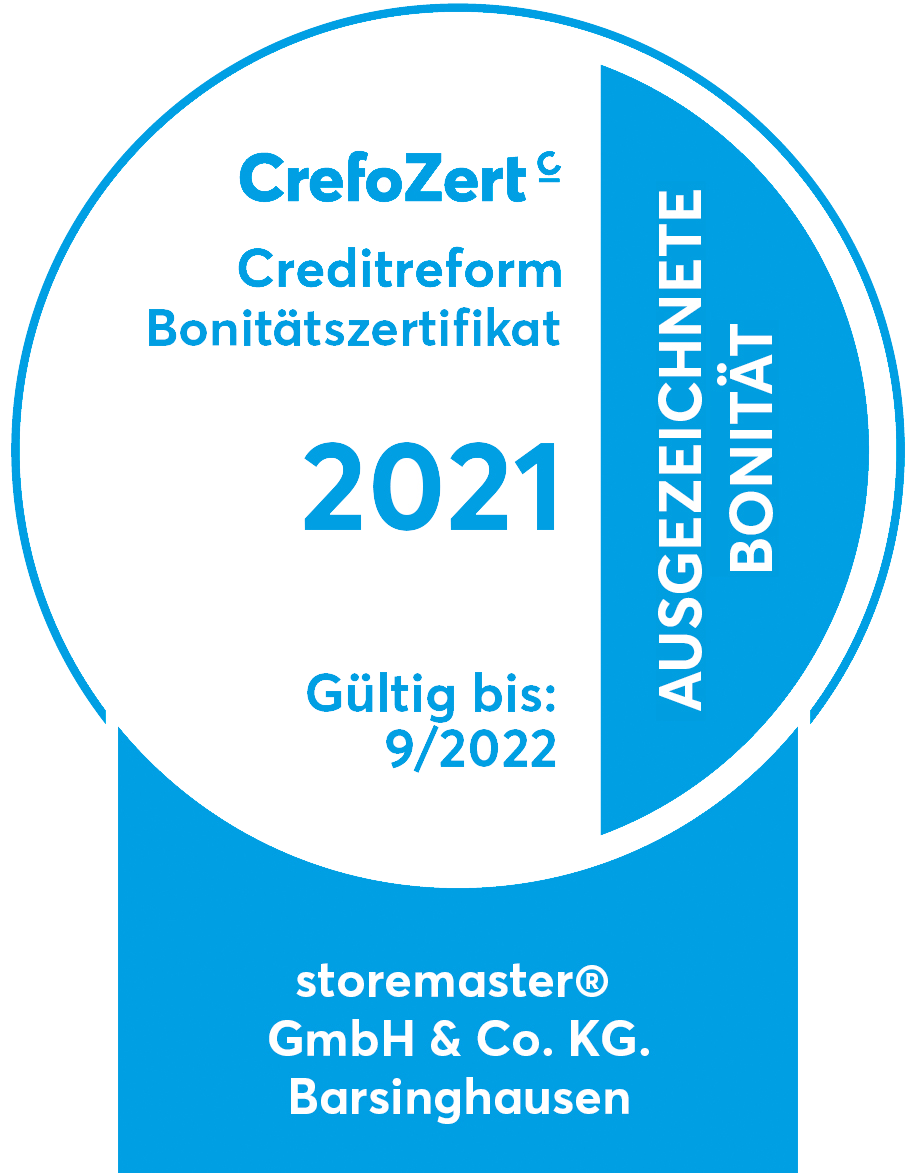 A strong partner
storemaster GmbH & Co. KG. is one of the 2% of German companies to have been awarded the "CrefoZert" creditworthiness certificate for exceptionally good credit standing. Creditreform thus certifies that our business conduct is impeccable and the forecast for the future is positive. Your perfect business partner!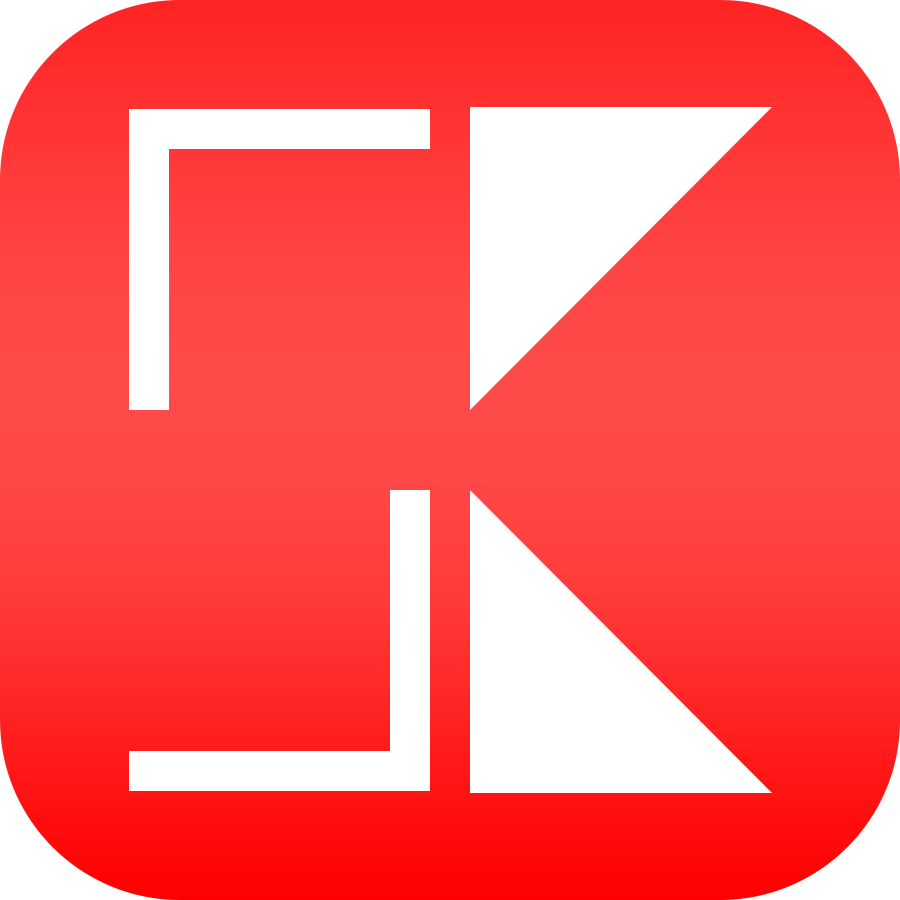 StoreKeeper® Warehouse App
With StoreKeeper® warehouse management software, you have your entire warehouse in view at all times.
Connect your ERP and off you go.
StoreKeeper® is cloud-based and can therefore be used across platforms.